Pregnancy Blog...Our Journey
Lindsey and I have shared everything from sweat on the soccer field and basketball court to prom night festivities to wedding celebrations to the growth of our business. It's only fitting that we would have the joys of experiencing pregnancy together. That's right, we are both expecting.
We thought it would be fun to start separate blogs so that you could follow not only our fit pregnancy journey, but our quest to get back into our "skinny jeans" after our little miracles arrive. So, check them regularly and become a follower..it'll be fun!
---
Fitness Magazine's Top 20 Tunes

Having the best running music is essential to when it comes to having a kick butt run. I am always looking for new songs to motivate me up these Whidbey Island hills. Fitness Magazine is by far my favorite magazine out of my monthly collection. In January they came out with an issue with their top 100 best workout tunes of 2008. More specifically, they narrowed it down to the best 20 songs for running. It is a great collection so I thought I would pass it on. [Fitness Magazine's Top 20]


---
Best Jogging Strollers...Our Favorites

Researching the best jogging strollers can be time consuming. However, with the recent news of the new additions that will be joining the Tucker family and The House family in the near future, there is no doubt that we have baby on our mind these days. Also, it's not a surprise that we are already mapping out our strategy to rid ourselves of that extra baby weight that goes along with it. Our number one strategy…find a kick butt jogging stroller.

We've done our research. To find the best jogging strollers, we have spent hours comparing prices, stroller weight, storage room, folding dimensions, wheel size, reviews, safety features and we have narrowed it down to our four favorites. Hope this saves you a little time as you search through the best jogging strollers. [Read More]

And, before anyone spends another dime on the wrong stroller, tell us about your jogging stroller. Give us your review…what are your likes and dislikes about your jogging stroller. It's easy! Click here, scroll down and type away.

---
Advantages of Breastfeeding

The advantages of breastfeeding are often talked about with your OB/GYN, however I know a lot of what we talked about went right out the window by the time my baby was born. Breast milk is considered the perfect food or the "gold standard" for feeding your baby. The benefits for both mom and baby are tremendous and are provided clearly below.[Read More]

---
Foods to Avoid While Breastfeeding

Foods to avoid while breastfeeding often times vary for every individual and it may be helpful to keep a food journal in case you need to do some investigative work! Some foods may promote gas, restless nights, allergic reactions or taste changes to the mother's milk. To keep this simple, I have broken down foods groups and possible contradictions for the baby below. [Read More]
---
Master the Kegel
Unfortunately, many pregnant women tend to over look the importance of learning how to do kegel exercises. I am guilty too...and I paid the price. Not only did hemorrhoids plague my postpartum experience but a simple sneeze during pregnancy disabled my urinary control. Yes, is provided much entertainment for some but, believe me, next go round kegel exercises are definitely going to be on my priority list. [Read More]

---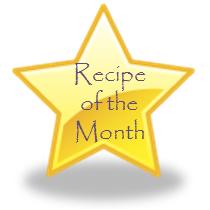 Zesty Pita Chips with Edamame Dip
Submitted by Liz Tafel of New Bern, NC...thanks Liz!
Click here for this yummy recipe!
New Real Fit Recipes
Salmon Potato Cakes
Carrot Jalapeno Salad (shared by Cherie Moon)
Savory Butternut Squash

Got an awesome easy recipe? Share it!



---
Snack Attack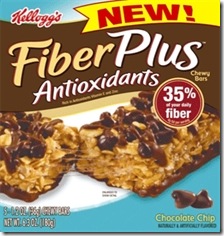 Kellogg's Fiber Plus Chewy Bars are made with rolled oats and crisp rice cereal. I love them because they taste great, satisfy my need to have something chewy and sweet, and fill me up. Plus, they are high in fiber which is great for pregnancy related constipation!


only 120 calories
4g of fat
2g protein
9g fiber
7g whole grains
Rich in Antioxidants, Vitamin E and Zinc
Good source of Calcium
Submitted by Lori of Memphis, TN...Thanks Lori!
---
Move of the Month
Skate Squats/lunges are another one of my favorites. It's a balancing exercise (which is essensial as we age)so it uses all our stability muscles to perform the exercise. As a result, the entire leg is toned and sculped.

Target Muscles:
Quads, Hamstrings, Glutes (Butt)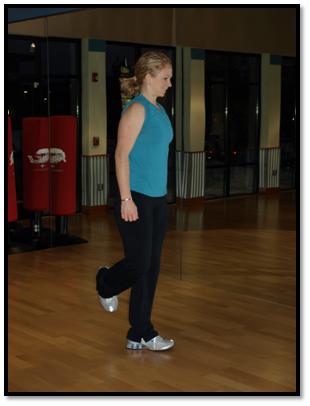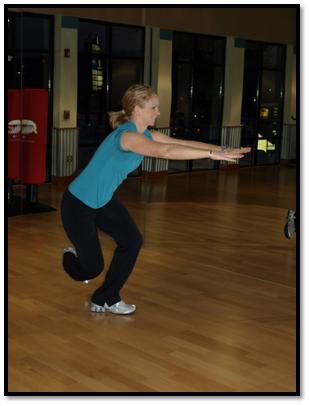 How To:
Stand on right leg, foot pointed forward, weight on heel, abs pulled in and good posture…left leg is bent behind you
Lower yourself down by bending your right knee and sticking your butt out behind you until your upper thigh is almost parallel to the ground (make sure your knee isn't extending pass your toe)
Simultaneously slide the left foot out behind your body toward the right side like a speed skater…you can let the toe touch the floor for balance but work your way up not letting it touch
Push through your heel and raise yourself up to the start position
Try not to let the other foot touch the ground through the whole movement
Repeat for desired number of reps and then switch legs
Important: Never let your knees extend past your toes. Keep a straight back . Don't lean forward and don't let heals lose contact with the ground.
---
Your Get Fit Blog!
In addition to kick butt workouts, fit tips and Love at First Bite recipes, the Real Moms Get Fit Blog lets you know when new web pages appear on real-moms-real-fit.com.

To subscribe to our Get Fit Blog, visit our home page and right-click on the orange (XML/RSS) button (located on the lower left side) and then paste the URL into your RSS reader. Or click on the My Yahoo! button, My MSN or Add To Google button if you have a personalized home page there.


---
Talk to Me!
Don't forget that we have page in which you can contact us . So, if you have a healthy recipe, a new awesome strength training move, a suggestion for a future newsletter or even an inspiring success story, we would love to hear from you. Don't hesitate to ask a question or share an idea. Also, feel free to forward this onto a friend!



Healthy Regards,
Sommer Tucker and Lindsey House
www.real-moms-real-fit.com

"The miracle isn't that I finished. The miracle is that I had the courage to start."
John Bingham, running speaker and writer
---