Healthy Recipes . . .
Fit For A Mom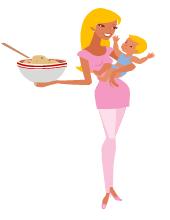 Healthy recipes...don't laugh. It is no secret, I loooooove food just like you!
However, this love has been known to sabotage workouts as well as the quest to get back into those "skinny jeans"
**remember, "skinny jeans" are the jeans that make you feel awesome...that doesn't mean they have to be a size 0.
If you are anything like me, your days are busy enough keeping up with your little ball of energy. The last thing you want to do is tackle a recipe with a million gazillion ingredients.
No, we need easy, healthy recipes
Since I have had my son, I've become addicted to finding ways to take the fat and calories out of my favorite foods and snacks without a ton of extra work...crock pot recipes are gold!
I have found ways to make loaded nachos without loads of fat and yummy pizzas that even makes my husband's mouth water.
I have collected tons of easy, "skinny Jean" recipes that are loaded with taste...
And, I've also accumulated an endless amount of tips and tricks for making your high calorie addictions fit into your quest to get back into those "skinny jeans".
Bonus: Along the way, not only have I discovered how to make my own baby food, but I have also come up with yummy, nutritious recipes that not even the pickiest of toddlers can resist.


Pick One!
6 Ingredients or Less!
Best Crock Pot Recipes
Chicken Recipes
Beat Breakfast Boredom
Berry Good Fruit Recipes
Pizza Recipes
Soup Recipes...tis the season
Dessert Recipes
Easy Healthy Snack Recipes
Snack Attack...healthy prepackaged options
Recipe of the Month
Drink Like a Fit Chick

More Interesting Pages!
Healthy Shopping List
Fit-2-Deliver Diet



Can't Get Enough?
Sign up and subscribe now for your free MONTHLY motivating tips & tricks. Every month you'll receive motivating workouts, must try easy recipes, yummy snack ideas, fit tips and much more.
Just enter in your info below!
Heads Up!
If you don't receive your newsletter, check your junk/spam mail. You have to find it in your junk mail, click on it and then add it to your address book. Hope that helps!



Leave Healthy Recipes for Real Moms Real Fit home page