Healthy Easy Recipes
Six Ingredients or Less...Genius!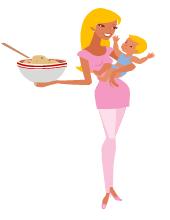 Easy recipes are must for moms. I know you've seen those healthy recipes that have a million ingredients and you can't pronounce half of them. Nope, not for me, not gonna do it! I have a million things to do and slaving over the stove isn't one of them. I need healthy easy recipes
Luckily, my friend had an incredible idea for lightening the load in the kitchen.
After the birth of her first child, she sent a mass email out to family and friends asking for easy healthy recipes of six ingredients or less. Genius!!
Not only did I do the same, but she was nice enough to share hers with me. We're paying it forward with hopes of lightening your load…in the kitchen!
Do you have a recipe you want to share? Scroll all the way down and pay it forward!
Just pick a quick and easy recipes and enjoy!
*Some recipes will overlap as they qualify for more than one category.
Chicken Recipes
Baked Chimichangas
Balsamic Chicken
Chicken Soft Tacos...a favorite!
Creamy Crock Pot Chicken
Creamy Italian Chicken
Feta Pasta with Chicken
Mandarin Chicken
Mexican Chicken
Mexican Lasagna
Parmesan Chicken
Skinny Chicken Fingers
Skinny Fried Chicken



Beef Recipes
Chipotle Salsa Steak
Beef Tenderloin with Adobe Paste



Seafood Recipes
Broiled Tilapia Parmesan
Salmon Potato Cakes
Peppered Scallops

Hamburger &Turkey Burger Recipes
Pasta Recipes
Creamy Pesto Tortellini
Feta Pasta


Pizza Recipes
Hamburger Pizza
Feta Pita Pizza
Tortilla Pizza

Crock Pot Recipes
Creamy Crock Pot Chicken
Pepperoni Pizza Soup
Chicken Soft Tacos
Chicken Stroganoff
Zesty Chicken
15 Bean Soup
Creamy Italian Chicken
Side Dishes
Broccoli Salad with Sweet Vinaigrette
Butternut Squash Gratin
Carrot Jalapeno salad
Cinnamon Sweet Potatoes
Ginger-Sesame Asparagus
Grilled Vegetables with Feta Cheese
Parmesan-Pepper Sweet Potato Fries...another favorite!
Parmesan Zucchini Strips
Red Potato and Green Bean Saute
Roasted Cauliflower


Dips & Appitizers
Spinach Artichoke Dip
Sweet and Spicy Popcorn
Zesty Pita Chips with Edamame Dip

Soups
15 Bean Soup
Pepperoni Pizza Soup
Easy Chili...8 ingredients but so easy you won't care

Desserts
Apple Crisp
Flourless Chocolate Raspberry Cake
Hot Fudge Cake
Magic Chocolate Pie

Smoothies
Chocolate Muscle Smoothie
Peanut Butter Lover's Smoothie
Shakeology Chocolate Peanut Butter Smoothie



Breakfast
Banana Rollup
Fiesta Breakfast Burrito
Breakfast On-the-Go
Easy Ziploc Omelet



Beverage Recipes
Toddler Recipes
Chunky Applesauce
Cinnamon Sweet Potato Chips
Pepperoni Pizza Soup
Magic Chocolate Pie
Hamburger Pizza
Toddler Vanilla Milkshake
Feta Pita Pizza
Sneaky Twice Baked Potatoes
Tortilla Pizza



---
Help a mom and share your favorite quick and easy recipes?
Do you have a favorite go-to recipe? Give other moms one last thing to worry about and share your favorite healthy, quick and easy recipes!

Not only will your name appear on the site, but we are working on an Ebook of our most awesome recipes and your's might just sneak it's way in there.
Check out the other shared recipes
Click below to see contributions from other visitors to this page...

---
Other Interesting Pages
Recipe of the Month
More Crock Pot Recipes
Soup Recipes
Chicken Recipes
Beat Breakfast Boredom
Berry Good Fruit Recipes
Healthy Snack Ideas
Snack Attack...healthy prepackaged options
Recipe of the Month
Drink Like a Fit Chick
Healthy Shopping List




Leave Easy Recipes for Real Moms Real Fit Home Page