Banana Rollup Recipe
The Banana Rollup Recipe is a go-to breakfast for the Tucker Family. When we are in a hurry or out of eggs we always resort to this easy and delicious recipe. We even love to use this recipe for snack time. It gives me that boost of energy I need mid-morning. Griffin loves it too...what more can you ask for?!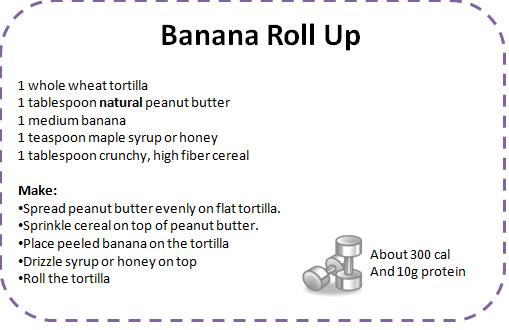 I usually warm the tortilla in the microwave for 5-10 seconds first so it is more pliable.
Other Interesting Pages
Recipe of the Month
Soup Recipes
Chicken Recipes
Beat Breakfast Boredom
Berry Good Fruit Recipes
Healthy Snack Ideas
Snack Attack...healthy prepackaged options
Recipe of the Month
Drink Like a Fit Chick
Healthy Shopping List







Leave Banana Rollup Recipe for Real Moms Real Fit home page