SUBSCRIBE...Free Get Fit Newsletter!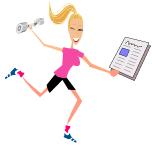 Hey, Fit Moms...Sign up and subscribe now for your free MONTHLY motivating tips & tricks. Every month you'll receive motivating workouts, must try easy recipes, yummy snack ideas, fit tips and much more.
Some of the topics I will include in the newletters:
KICK BUTT CARDIO…a new cardio session to mix it up and get results
LOVE AT FIRST BITE...must try easy recipes that everyone will love
CUPBOARD CLEAN-OUT…swap high calorie foods for tasty healthier options
MOVE OF THE MONTH…spice up your workout and hit those hard to reach spots with a new awesome strength training move.
I also plan to sneak in:
FIT-4-TWO…tips and tricks for moms-to-be
PUMP IT UP…awesome strength training sessions
SNACK ATTACK…fast easy snack to keep you satisfied and
MUNCH ON THIS...a food or fitness tip, trick, or news flash
Sign up NOW! The newsletter hits your email on the first of every month!
Check out what you have been missing...past newsletters!
Heads Up!
If you don't receive your newsletter, check your junk/spam mail. You have to find it in your junk mail, click on it and then add it to your address book. Hope that helps!






Return from Subscribe to Real Moms Real Fit Home Page