Fit Mom Chat Room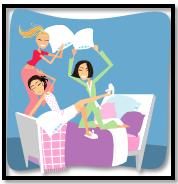 Finally we have a Fit Mom Chat Room where you can give your opinion, share your pregnancy journey, creative ideas, recipes, kick butt exercise moves, training schedules, favorite playlists, product reviews, as well as your weight loss struggles and accomplishments. I think it's nice to have people to bounce things off of and get their opinion on things.
It is completely free, no registration or password required and open to anyone and everyone. There are numerous message boards that you can participate in. You can ask a weight loss question or even answer someone else's weight loss question. This is a great way to build a support system and help make other moms weight loss journeys a little less overwhelming. Jump in and just have fun with it!
What Do You Want To Talk About?
---
Weight Loss Success Celebration

Get ready to be inspired! Get ready to be motivated! These real mom weight loss success stories are going to get you pumped. Or, go ahead, brag a little. It's time to CELEBRATE your success!! If you are a mom, post partum 20 weeks or 20 years, and you figured out how to get back into your "skinny jeans" we want to hear about it.





---

Kick Butt Workout Music

Having the best workout music is essential to having a kick butt fat burning session. I absolutely believe that the music can either make or break a workout. Do you have a playlist that is music to your feet? Or a mix that never fails to motivate you? We would love to jam to it. Share your most favorite playlists. And, check other shared kick butt playlists.





---

Jogging Stroller Reviews

Do you have a favorite jogging stroller? Are you partial to the popular BOB jogging stroller or do you prefer Baby Jogger, InSTEP, Kelty, or Schwinn? Before anyone spends another dime on the wrong stroller, tell us about your jogging stroller. Give us your review…what are your likes and dislikes. .





---

Share a Recipes

Do you have a favorite go-to recipe? Give other moms one last thing to worry about and share your favorite healthy, quick and easy recipes! Try other shared recipes, rank them, comment on them or give suggestions.





---

Coming Soon!


Best Weight Loss Tips


Best Running Shoes


Weight Loss Supplements...Friend or Foe?


Weight Loss Questions and Answers


Pregnancy Stories


Best Heart Rate Monitors


Favorite Workout and Weight Loss Gadgets
Leave Fit Mom Chat Room for Real Moms Real Fit home page