Snack Attack Snack Ideas
Snack ideas...like I have said before, this is where we lose it. A handful here, a handful there…it all adds up and still leaves us hungry and unsatisfied.
I don't believe in depriving ourselves in an effort to get back into those "skinny jeans". Having said that, I still believe we have to make smart choices.
This can be the confusing part. Those labels can be confusing and the catchy marketing techniques can be misleading. For this reason, Lindsey and I have done the hard work for you. We have read the labels, tested them and found some snack ideas that will satisfy your cravings without derailing your weight loss efforts.
Added bonus...these snacks are perfect for a mom on the go. Now there's no excuse for skipping snack time. Remember, eat every 3 hours to keep that metabolism working for you.
NEW! Share a on-the-go "Snack Attack" you discovered and check out the ones that others have found. You can even make comments and rank them. Just scroll down to the bottom...enjoy!
---
Featuring...Kelloggs Fiber Plus Chewy Bars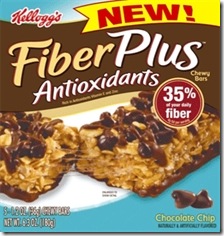 Kellogg's Fiber Plus Chewy Bars are made with rolled oats and crisp rice cereal. I love them because they taste great, satisfy my need to have something chewy and sweet, and fill me up. Plus, they are high in fiber which is great for pregnancy related constipation![Read More]
---
More "Snack Attack" Ideas
Back to Nature Granola Snacks: These pre-packaged snacks have only 190 calories are packed with 5 grams of protein and 4 grams of fiber leaving you satisfied for longer.
Muscle Milk: They come in all different flavors and pack in 20 grams of protein, only 160 calories and 5 grams of fat. Drink up!
Quaker Rice Cakes: They come in a number of flavors and only have about 60 calories per serving and no fat.
South Beach Bars: Not only are they a great snack packed with 10 grams of protein and only 140 calories, but they are an easy quick breakfast option when time gets away from us.
Kelloggs Fiber Plus Chewy Bars: Kellogg's Fiber Plus Chewy Bars are made with rolled oats and crisp rice cereal.
---
I Found One! Your On-the-Go Snack Idea Jackpot.
Did you hit the jackpot with a yummy "Snack Attack" find. If you discovered a on-the-go, low calorie snack, with protein and maybe even some good ol'fiber share it with the rest of us.

Not only will your name appear on the site, but your snack idea just might end up a featured "snack attack" on our snack ideas page.
Check out the other shared "Snack Attacks"
Click below to see contributions from other visitors to this page...

EAS AdvantEDGE Shakes Not rated yet
These shakes come in chocolate, vanilla, and strawberry. They're surprisingly tasty and satisfy that hunger and sweet tooth. They pack a mean 17 grams …
Kellogg's Fiber Plus Chewy Bars Not rated yet
Kellogg's Fiber Plus Chewy Bars are made with rolled oats and crisp rice cereal. I love them because they taste great, satisfy my need to have something …
More Interesting Pages
More Snacks Ideas
Fit Grocery Shopping List
Your Weight Loss Eating Plan







Leave Snack Ideas for Real Moms Real Fit home page