Snack Attack Snack Ideas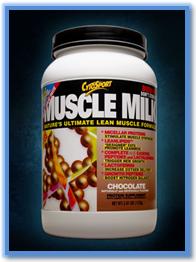 Muscle Milk
According to Cytosport, the manufacturer of Muscle Milk, Muscle Milk is "Designed after one of nature's most balanced foods: human mother's milk, Muscle Milk takes the guesswork out high performance nutrition by delivering a precise blend of ultra-premium proteins, complex carbohydrates, functional fats, vitamins & minerals".
I don't know the inns and outs of that, but I do know that it doesn't have creatine or any of that crazy stuff in it. It really is just a blend of healthy proteins, carbs and fats. I even ran it pass our family practitioner...completely safe!
One scoop packs 15 grams of protein and only 150 calories (a serving is 2 scoops but I only use one). All you have to do is combine it with water. I am telling you, it is the best "protein drink" I have ever had, and I have tried a ton.
Every afternoon my husband and I love to make a smoothie with the Muscle Milk powder before we leave for our Body Blast "boot camp" class. It gives me the energy to teach a kick butt class, and it satisfies my sweet tooth at the same time…chocolate flavor is my favorite! Added Bonus…Lactose Free!
-OR-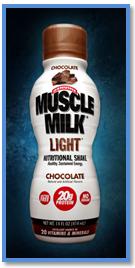 If you are really pressed for time, I found these grab-and-go Muscle Milk drinks. They come in all different flavors and pack in 20 grams of protein, only 160 calories and 5 grams of fat. Drink up!