Shakeology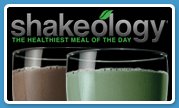 Okay, so I have to tell you about this Shakeology® supplement that my husband and I have been taking for quite awhile now. I have never been a huge supplement guru. One, I'm stingy with my money and two, some of those things have crazy ingredients. However, it was introduced to me almost a year ago. It has kind of become my secret little weapon to keeping my weight down and my energy up. I really can't say enough about it. With Shakeology®, I was able to get my body fat % down to 17% before I got pregnant. That is something I was never able to do no matter how much I tortured myself.
This isn't one of those fad drinks where you replace two meals a day and virtually starve yourself. I either use it to replace my lunch (but I make it into a smoothie with peanut butter, milk (lactose free milk for me), and a banana to boost the calories. Sometimes I use it as a snack instead, but I do drink one every single day. It takes my cravings away, eliminates my bloating and it gave me an energy boost throughout the day. I can definitely tell a difference in my workouts when I don't drink it.
When I finally talked my husband into drinking it a couple months ago, he lost 2 inches off his waist in 2 weeks...I think it cleaned out his system and got rid of bloating. I also got my parents hooked on it. While they did clean up their diets a tad, my dad has lost 12 pounds in less than 2 months and my mom has lost 15 pounds. My mom has a huge sweet tooth and my dad loves salty treats and they said it definitely helped curb those cravings. There isn't anything dangerous in it…I'm totally against putting crazy stuff in my body just to look good. I even got the A-OK from my OB doc to drink while I'm nursing.
So what's in it then?
It has more than 70 ingredients that help you…
Lose weight
Reduce cravings
Increase energy and stamina
Promote healthy digestion and regularity
Lower cholesterol
Help decrease inflammation
Boost your immune system
Helps keep blood sugar steady
Promotes healthy skin, hair and nails
I could go on… How many meal replacement drinks can say they do that?!
More Specifically, Shakeology® has…
Protein and essential amino acids to help build muscles and reduce food cravings.
Prebiotics and digestive enzymes aid in improving digestion, regularity, and nutrient absorption.
Antioxidants and phytonutrients help counteract free radical damage that can lead to degenerative diseases.
A daily dose of 23 vitamins and minerals provides your body what it needs to function for optimal health.
How It Works
Ingredients derived from whole-food sources deliver the daily vitamins, minerals, and other nutrients your body needs to curb cravings, allowing it to shed stored fat.
More than 20 different antioxidants and phytonutrients help reduce free radical damage that can lead to heart disease, heart attacks, high blood pressure, and stroke.
Fiber, prebiotics, and digestive enzymes help your body gently eliminate the toxins that build up in our body from all those highly processed junk we eat more efficiently and promote better absorption of nutrients.
How to purchase Shakeology®
The Shakeology Convenience Pack contains 24 single-serving packets you can take anywhere.
Choose the 30-day supply in a bag to keep in your kitchen.
ORDER SHAKEOLOGY
FREE gifts when you sign up for Home Direct, the monthly autoship program
FREE shipping every month†
2 FREE Workout DVDs in your first shipment...my favorite!
FREE Shaker Cup in your second shipment
Need more convincing?
Watch this video...
ORDER SHAKEOLOGY ...it really is worth it!
Try my favorite Shakeology® recipe
30-Day Money Back Guarantee
If you don't start to see and feel the benefits within the first month of using it, or if you're not 100% satisfied for any reason, just return it within 30 days for a full refund of the purchase price, less s&h—guaranteed. Go ahead, give it a try!
*These statements have not been evaluated by the Food and Drug Administration. This product is not intended to diagnose, treat, cure, or prevent any disease.
*Results may vary.
*In a 90-day study, participants replaced one meal per day with Shakeology, adopted a healthy balanced diet, and exercised at moderately intensity three times per week. Total cholesterol was reduced on average by 30% and LDL cholesterol was reduced on average by 38%.