Best Workout Music
Having the best workout music is essential to having a kick butt fat burning session. I absolutely believe that the music can either make or break a workout. There are some songs that are just music to my feet and incredibly motivating for those long runs. I also have certain songs that get my muscles all fired up when I'm hitting the weights. Then there are other songs that are absolutely perfect for climbing a monstrous hill in spinning class.
For this reason, I put a ton of effort into the tunes that go into my IPOD. According to my husband, I spend way too much time searching all over iTunes for the best workout music to fit each part of my training. So, I am paying it forward with hopes of saving you the time and effort. I hope you will too. If you have a playlist that your feet can't get enough of, scroll down and share (coming soon). I am also working on giving you the ability to link directly to the song on iTunes to purchase it. Talk about a time saver!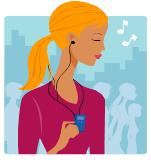 Featured Playlist
Marathon MixFitness Magazine's Top 20 Running Tunes of 2008
Having the best running music is essential to when it comes to having a kick butt run. I am always looking for new songs to motivate me up these Whidbey Island hills. Fitness Magazine is by far my favorite magazine out of my monthly collection. In January they came out with an issue with their top 100 best workout tunes of 2008. More specifically, they narrowed it down to the best 20 songs for running. It is a great collection so I thought I would pass it on.
"The Shock of the Lightning" – Oasis
"Forever" - Chris Brown

"My Apocalypse" – Metallica
"Damaged" - Danity Kane
"Boots of Chinese Plastic" - The Pretenders
"Womanizer" - Britney Spears
"Disturbia" – Rihanna
"I Don't Care" - Fall Out Boy

"The Right Life (Tiesto Remix)" – Seal
"Gettin' Up" - Q-Tip
"Shawty Get Loose" - Lil Mama featuring Chris Brown & T-Pain
"Psychosocial" – Slipknot

"Going Wrong" - Armin van Buuren with DJ Shah featuring Chris Jones
"Dreams" – Buckcherry
"About a Girl" - The Academy Is...

"A Milli" - Lil Wayne
"Universal Mind Control" – Common

"Feedback" - Janet Jackson
"I Kissed a Girl" - Katy Perry
"Something Is Not Right with Me" - Cold War Kids
All available on iTunes!
---
More Kick Butt Playlists
Coming Soon
---
Got a Kick Butt Playlist? Share Your Best Workout Music
Do you have a playlist that is music to your feet? Or a mix that never fails to motivate you? We would love to jam to it. Share your most favorite playlists.
Check out the other shared kick butt playlists
Click below to see contributions from other visitors to this page...

Cardio Collection (60+ minutes)

Total Time: 1 hour 8 minutes ABSOLUTE (3:47) The Fray *good warm-up song TO THE BEAT OF OUR NOISY HEARTS (3:02) Matt Nathanson *nice steady …
Leave Best Workout Music for Real Moms Real Fit home page