Fit-2-Deliver...Exercise during Pregnancy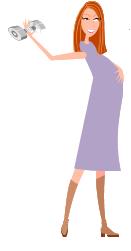 What should your heart rate be when you exercise during pregnancy? What exercises can you and can't you do?
There is so much confusion that revolves around pregnancy exercise. Too often, many fail to realize that the ACOG (Amercian College of Obstetrics and Gynecology) guidelines for exercise during pregnancy have been revised and updated.
Let me assure you, the days of sitting on the couch for nine months (even though we all might feel like it sometimes) and eating for two are over. Pregnancy is a time to be healthy, exercise and get/stay fit…for mom and baby.
*Never too early to start thinking about your Exercise after Pregnancy Plan
Benefits for Mom
Improves self-esteem by improving body image…many days I did a double take in the mirror because I didn't recognize myself so this is a big plus!
Energy booster due to increased circulation…This is huge, pregnancy can leave you very tired and even more so if you are already chasing one ball of energy around the house.
Improves sleep…oh, you will find out soon how valuable this is.
Help return you back to pre-pregnancy shape quicker…that's enough in and of itself!
Less weight gain…but, don't go trying to lose weight…this isn't the time!
Relieve stress and anxiety...try Yoga!
Helps decrease swelling by increasing circulation
Decrease lower back discomfort… strengthening your abs, back, butt, and legs helps better support that ever growing belly
Helps prevent varicose veins
Reduce constipation
Decrease risk of hemorrhoids…had 'em and you don't want 'em!
Helps combat post-partum depression
Fit-2-Deliver
Shorter labors (2 hrs on avg)…need I say more?!
Decrease maternal exhaustion…'cause you're in shape (endurance is going to come in handy in the event of a long labor)
Decrease need for pain relief… mother's perceived pain during labor is lower due to ability to deal with discomfort because of exercise
Decrease need for episiotomy
Decrease need for operative delivery (forcep use or c-section)
Decrease need for labor induction
**EASIER, SHORTER, LESS COMPLICATED LABOR**
When can I start to exercise again?


Benefits for Baby
Tolerated stress of labor better than babies of non-exercising moms
Higher APGAR scores
Tend to be leaner (NOT low birth weight. I repeat, NOT low birth weight)…could be a benefit for mom too if you know what I mean!
Increase ability to "self-sooth"


Let me remind you, it is completely untrue that pregnant women cannot engage in exercise unless they were previously involved in an exercise program before they became pregnant. Exercise during pregnancy can be beneficial whether you start before or during.
MYTH BUSTER…This ACOG prohibition was removed from the guidelines in 1994. The ACOG guidelines actually say "Healthy pregnant women are encouraged to engage in at least 30 minutes of moderate exercise on most, if not all, days of the week."
Yes, the level of exercise recommended will depend, in part, on your level of pre-pregnancy fitness. If you are just getting started, start out slow, take your time, and listen to your body!
If you were working out prior to getting pregnant, keep doing what you are doing.
I rest my case! Let's go moms…GET MOVING!
Important: Always listen to your body! If it doesn't feel right…don't do it!
*You should always consult with your doctor to ensure he or she approves your participation in an exercise program and to adjust your program to you specific needs and restraints.
Other Interesting Pages!
Pregnancy Weight Gain Calculator
Master the Kegel Exercise
Pregnancy Contraindications and Warning Signs
Pregnancy Workouts...first and second trimester
Third Trimester Exercise
Exercise after Pregnancy
Pregnancy Diet Fit 2 Deliver
Tips and Tricks to help with Morning Sickness
Foods to Avoid during pregnancy
Caffeine during pregnancy
Jogging Stroller Reviews
BMI Calculator

Leave Exercise during Pregnancy for Real Moms Real Fit home page