A Weight Loss Eating Plan to Banish Baby Weight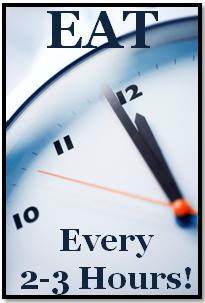 A weight loss eating plan most likely appears daunting and too much effort for minimal sleep and time. I'm sure even reading this article is taking up more time than your day technically allows. However, whether you just gave birth or you have teenagers driving around, most mom's are forever trying to lose their baby weight.I truly understand the difficulties people have with losing weight and I want to simplify your journey (No, I am not selling you an amazing POST PREGNANCY DIET- LOSE 10 POUNDS THIS WEEK!).
I would like to introduce a weight loss eating plan that fits your crazy schedule and most importantly, does not feel like a diet. I truly believe it is unhealthy for your body and your metabolism to go on continuous diets. I know, the pounds comes off fast, but the quick muscle and weight loss start to slow down your metabolism making it nearly impossible to maintain your exciting loss.

As a Dietitian and Personal Trainer, I always emphasize that slow and steady wins the race. Yes, it can be frustrating to work hard and only lose a pound a week, but it is TRUE weight that will stay off with your new healthy habits. Sorry, I'll get off my soap box and back to the topic at hand… a simple, easy to follow, weight loss eating plan.

The best advice I can give you while you're trying to lose weight is to EAT! I understand that it feels contradictory to eat when you are not hungry and the will power behind skipping meals feels like an accomplishment… but you have to EAT if you want to LOSE! Ready to be done with diets and lose weight the right way...
Guidelines to your weight loss eating plan:

Eat Breakfast (beat breakfast boredom)


Space out meals and snacks every 2-3 hours (NO SKIPPING)


All bites should be specific and planned, if you are nibbling, you are most likely sabotaging your efforts


Focus on Protein when planning snacks and meals


Figure out your approximate calorie needs (St. Mifflin Jeor Formula) and do not dip below your needs


Disperse calories evenly throughout the day (do not save calories for a nice big dinner)


Grocery shop weekly and pre-baggy or package snacks and meals (your refrigerator should look compartmentalized)


keep a diet and exercise journal for extra accountability
Weight Loss Eating Plans: Sample Days
Sample Day 1:
Breakfast:
6:30am – scrambled egg beaters and a piece of high fiber toast with spray butter
Snack:
9:30am – small baggy of almonds (approx. 24)
Lunch:
12:30pm – tuna salad over a bed of lettuce paired with tomato slices
Snack
3:30pm – leftover tuna salad with a couple high fiber crackers
Dinner:
6:30pm – Mandarin Chicken (
Mandarin Chicken Recipe
)
Snack:
9:30pm – Frozen Hot Chocolate (
Healthy Snacks
)
Sample Day 2:
Breakfast:
6:30am – Turkey sausage patties dipped in sugar free maple syrup
Snack:
9:30am – String cheese and small baggy of grapes
Lunch:
12:30pm – Healthy frozen entrée (aim toward the protein options)
Snack
3:30pm – leftover Mandrin Chicken
Dinner:
6:30pm – Chicken Soft Tacos
Chicken Soft Taco Recipe
Snack:
9:30pm – Key lime yogurt topped with fat-free cool whip
**Remember, the above are only sample days and you will need to fit these recommendations to your own schedule. Try to eat breakfast within an hour of waking up and start spacing out your day every 2-3 hours. Visit
Talk to Me
if you have further questions or comments!
More Interesting Pages!
Accelerate Your Results...Get a Wellness Coach!
Healthy Shopping List
6 Ingredients or Less!
Quick and Easy Snack Ideas
Accountability is Key... try a diet and exercise journal
Exercise vs Diet - Which is Better for Weight Loss?
Advantages of Breastfeeding

Leave Weight Loss Eating Plan for Real Moms Real Fit home page