Newsletter Back Issues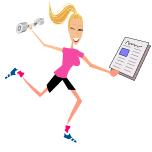 Check out Real Moms Real Fit Newsletter back issues to see what you have been missing!
Every month you'll receive motivating workouts, must try easy recipes, yummy snack ideas, fit tips and much more.
Can't get enough? Subscribe to our Get Fit Blog. In addition to kick butt workouts, fit tips and Love at First Bite recipes, the Real Moms Get Fit Blog lets you know when new web pages appear on real-moms-real-fit.com.
To subscribe to our Get Fit Blog, visit our home page and right-click on the orange (XML/RSS) button (located on the lower left side) and then paste the URL into your RSS reader. Or click on the My Yahoo! button, My MSN or Add To Google button if you have a personalized home page there.
Real Moms Real Fit Newsletters
2009
April: A Fit Mom Chat Room
March: Weight Loss Success Stories
Feb: Top 10 Tips for Finding Time to Exercise
Jan: New Year's Resolutions and Goal Setting

2008
Dec: Holiday Weight Gain
Nov: Split Workout Routines
Oct: Weight Loss Motivation
Sept: The Secret to Kick Butt Abs
Aug: What is your BMI?
June 4: Can't get to the gym...your at home workout
June 3: Water and Weight Loss
June 2: Love at First Bite
June 1: Kick Butt Cardio

Convinced?
If you don't receive your newsletter, check your junk/spam mail. You have to find it in your junk mail, click on it and then add it to your address book. Hope that helps!





Leave Back Issues for Real Moms Real Fit home page