Soup Recipes
Soups are a comfort food that can actually be healthy. Soup recipes can help fulfill some of the nutrients your body may be lacking. The average American doesn't eat enough fiber… do you know that women are supposed to get between 25-35 grams of fiber every day? Most women only consume closer to 10 grams daily, which means we really need to focus on adding fiber where and whenever we can. Soup is a great place to start by adding beans and extra vegetables to your favorite recipes. Added bonus, fiber tends to make us feeling satisfied longer. More satisfied, less likely to reach for those "other" comfort foods.
If you are feeling real motivated, try adding extra chicken, fish or lean beef to your soup selections to help meet your protein needs (average healthy pregnant women should consume around 70 grams of protein daily).
It's cold out there so pick one of our recipes and enjoy! Remember,you can drastically reduce the sodium (our worst enemy when it comes to bloating) in soup if you're willing to make them yourself!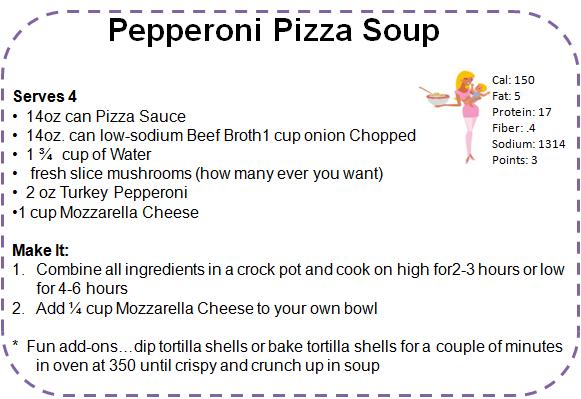 More Great Recipes!
6 Ingredients or Less!
Best Crock Pot Recipes
Chicken Recipes
Beat Breakfast Boredom
Berry Good Fruit Recipes
Pizza Recipes
Soup Recipes...tis the season
Easy Healthy Snack Recipes
Snack Attack...healthy prepackaged options
Recipe of the Month

Other Interesting Pages!
Healthy Shopping List
Fit-2-Deliver Diet
Accelerate Your Results...Get a Wellness Coach
Leave Soup Recipes for Real Moms Real Fit home page