Chariot Cougar
by Holley
(Oak Harbor, WA)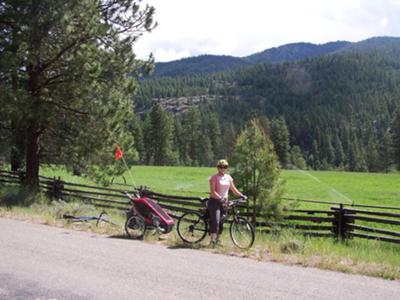 30+ Mile Ride by Winthrop, WA
I love this stroller but not just for the jogging ability. I had already returned a BOB to REI and settled on this one because I could use it for a bike trailer as well as a jogger. While it works fine as a jogger what I really liked about it is being able to use stroller wheels, or a jogging wheel or a bike trailer all in one.

The other nice feature about the Chariot is the little ones have a spot for their helmet to lean back so it does not get tipped forward on their head and make for an uncomfortable ride. Speaking of comfort, it has a very easy to adjust suspension system that changes as they gain weight. Many a times my son has fallen asleep in this stroller.

My only complaint would be I wish it had a removable seat cushion that I could wash. I bought this three years ago so maybe they do by now.

This is a very sturdy stroller. Packs up well too.

I see the price of a new Chariot stroller has jumped about $250 from when I purchased it. That seems a bit stiff to me. Should be a few floating around on craigslist...

That is my two cents!
Join in and write your own page! It's easy to do. How? Simply click here to return to Jogging Stroller Review.