Squats
Target Muscles:
Quads, Hamstrings, Glutes (Butt)


How To:
*Picture at bottom!
Stand with feet about shoulder width apart, weight on heels, abs pulled in and good posture
Using weight...hold dumbbell with both hands directly in front of your body
Lower yourself down and back by bending your knees. Stick your butt out and keep a straight back
Lower yourself down until your upper thigh is parallel to the ground (almost as if you are about to sit on a chair)
Dumbbell hangs straight down in between legs
Exhale Return to the start position by straightening your legs
At the top, squeeze your butt cheeks together like you are picking up a $100 bill
Fast Squats...same move as above but fast!
Important: Never let your knees extend past your toes. Keep a straight back. Don't lean forward (shoulders back) and don't let heals lose contact with the ground.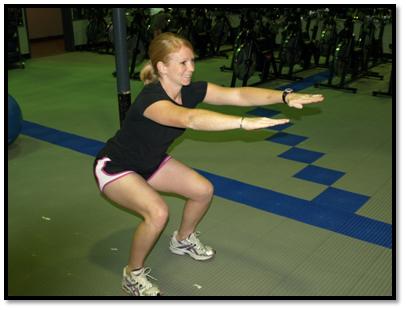 Leave Squats for Real Moms Real Fit home page