Dark Chocolate Covered Strawberries Recipe
Good For Your Heart!
Did you know that we spend over a million dollars on chocolate every year for Valentine's Day? Not to mention, that chocolate isn't helping America's expanding waistline.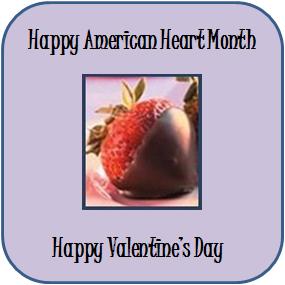 February is American Heart Month. So, in celebration of your heart (and your wallet) make Dark Chocolate Covered Strawberries for your valentine. It's easy, inexpensive, and surprisingly healthy.


Both strawberries and dark chocolate contain antioxidants. Antioxidants are our heart disease and cancer fighting friends.
They fight free radicals which are said to damage our cells. Such damage has been linked to heart disease, as well as, the formation of many cancers.


Added bonus: Dark chocolate also has the ability to lower blood pressure…According to The Journal of American Medical Association. High blood pressure is directly related to heart disease, which leads to a heart attack.
Now, that's not a license to eat all the dark chocolate you want. Everything in moderation!


So, dark chocolate – not milk chocolate or white chocolate – is the key this Valentine's Day. You can even indulge in a few yourself…3 dark chocolate covered strawberries have less than 100 calories!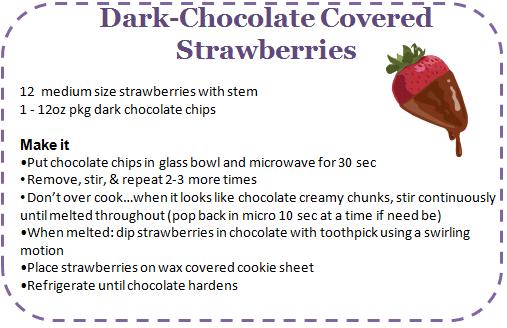 Try this recipe fondue style with your valentine for dessert. Just heat chocolate until creamy (as directed in recipe), dip and enjoy!
Or, get your kids involved. They love chocolate and love to be messy! You can even sneak in bananas and apples.
Try More Real Moms Real Fit Snack Ideas

Try Real Moms Real Fit Easy Healthy Recipes

Return from Chocolate Covered Strawberries Recipe to Real Moms Real Fit Home Page