Kick Butt Cardio Exercise and Weight Loss
MAKE CARDIO EXERCISE A PRIORITY!
You know who you are. You come up with every excuse in the book to skip your workout.
"I have to mop, do the laundry, fold the clothes, pick my kids up from school, go grocery shopping, I have to work late, I'm too tired, blah, blah, blah.
Look, I understand. Who has time for an hour of cardio exercise 5-6 times a week on top of Strength Training ? Not me! When it comes to working out, time seems to be the biggest obstacle. Having said that, we have to find time for it.

Kick Butt Benefits
Treat your cardio exercise workouts like an appointment...cancelling is not an option! Making time for ourselves must become a priority because the benefits long outweigh the sacrifices...
• Increases Metabolic Rate - burns more calories all day long!
• Reduces Stress Levels - who couldn't use that!?!
• Improves Sleep - ahhhhh sleep
• More Energy!!!
• Boosts immune system
• Releases Endorphins - makes you feel good!
• Reduces the risk of heart attack
• Improves Cholesterol levels
• BURN CALORIES...LOSE WEIGHT!
Bottom Line: You need cardiovascular exercise if you want to lose weight and get in shape!


The Strategy
We have been programmed to think that steady-paced cardio of 30, 45, or even 60 minutes is the key to weight loss. That is where we are going wrong!
It is a fact...our bodies will adapt to these long heart pumping sessions when the same intensity is maintained throughout. In other words, our body adjusts, conserves energy and burns less calories.
Okay, let's boost your calorie burn and make the most of your time.
Interval Training
Yes, interval training will get you the most bang for your buck. By intervals, I mean regular bursts of intensity followed by periods of recovery. Your body won't be able to adjust and you'll burn more calories
Added Bonus: The high-intensity intervals create an "after burn" - not only do you melt more calories during but also for many hours following your workout
You can incorporate calorie blasting interval training into any kind of cardio exercise.
More on the best weight loss workouts...interval training

So pick one from your favorite cardio or design your own and sweat it out 2 times a week. Switch it up to head off boredom, overuse injuries and weight loss plateaus:
Design Your Own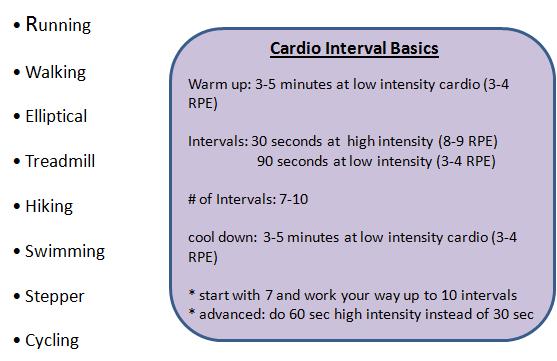 Pick One!
Rather have one done for you...like your own little personal trainer? Pick one of these pre-designed kick butt cardio workouts!
Combine them with a steady-paced cardio workout you can do 1-2 times a week, Strength Training and healthy eating, you'll be well on your way to fitting into your "skinny jeans".
Kick Butt Cardio Workouts


More Interesting Pages
Exercise vs. Diet
Pre-designed Kick Butt Cardio Workouts
Walking for Weight Loss
At Home Workouts
Interval Training...another key to weight loss
Track your progress with a diet and exercise journal
The Truth About the "Fat Burning Zone"
What Does RPE Mean?
Top 10 Tips for Finding Time to Exercise
Set Yourself Up for Success...Set Goals



Can't Get Enough?
Sign up and subscribe now for your free MONTHLY motivating tips & tricks. Every month you'll receive motivating workouts, must try easy recipes, yummy snack ideas, fit tips and much more.
Just enter in your info below!
Heads Up!
If you don't receive your newsletter, check your junk/spam mail. You have to find it in your junk mail, click on it and then add it to your address book. Hope that helps!


Leave Cardio Exercise for Real Moms Real Fit Home Page